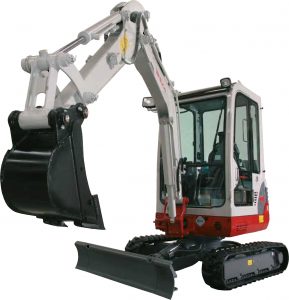 TB219 our 2-tonne mini excavator
On landscaping and construction sites the TB219 offers a versatile machine option. With the ability to slim down to just 980mm (1370mm cab) the TB219 can access the narrowest working areas. Extended digging depth is vital for many ground working services and the TB219 comfortably digs to 2520mm with a Ground reach of 4175mm.
Digging Depth
The TB219 excavates to 2520mm providing additional dig depth compared to conventional compact excavators.
The unique track extension and longer dozer blade adds significant stability when excavating deep.
Digging Depth
Expanding tracks for greater stability from 980mm to 1370mm.
Adjustable dozer blade width matches expanded tracks.
Balance and stability are further enhanced with a longer than average track frame (1570mm).
Two speed travel gives fast cycle times and flexibility around site on difficult terrain.